The Power of Packet
Optical Network Automation


The Power of Packet Optical Network Automation

David Noguer Bau
Strategic Alliances Marketing Director
Juniper Networks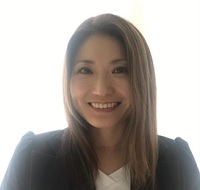 Mihoko Mori
Global Telecom Marketing Manager
NEC Corporation
As network equipment vendors have been offering packet and optical solutions for a decade, many service providers (SPs) still provision and manage their packet (IP) and optical network layers separately.
The Need for Automation and Integration is Critical

The broad deployment of solutions that collapse or flatten the packet and optical layers is still in its infancy, leaving operators to employ a cumbersome and manual approach. The day to day operations of a service provider network include many configuration steps and testing. To date, many SPs continue to manage and provision their IP and optical layers as two separate networks, which inflates OPEX, reduces efficiency and increases time to market for new services. Redundancies are created, resources are duplicated, manual workflows for the two operations teams slow down the overall process and the opportunities for human error persist.
These challenges are becoming more pressing because traffic in the metro continues to grow faster than any other network domain, the trend toward virtualization of edge service across distributed cloud resources is accelerating and the sophistication of traffic engineering techniques required to deliver 5G at scale - such as network slicing - necessitate multilayer orchestration across both the packet and optical domains.
To thrive in the future, service providers require an integrated and automated packet optical solution that will enable them to deliver the agility, capacity, efficiency and consistency needed to provide competitive and differentiated services over streamlined 5G transport.
That solution is available now.
The Multivendor Packet Optical Network Automation is Now a Reality

NEC has launched a joint solution for packet optical automation, combining best-in-class technologies from

Juniper Networks,

ADVA, NEC Corporation and its subsidiary,

Netcracker, in support of streamlined 5G transport. This solution is designed and developed within NEC's xHaul Transformation Services as the foundation of an open ecosystem architecture that enables NEC customers to have choice and flexibility, including service delivery integration and professional services.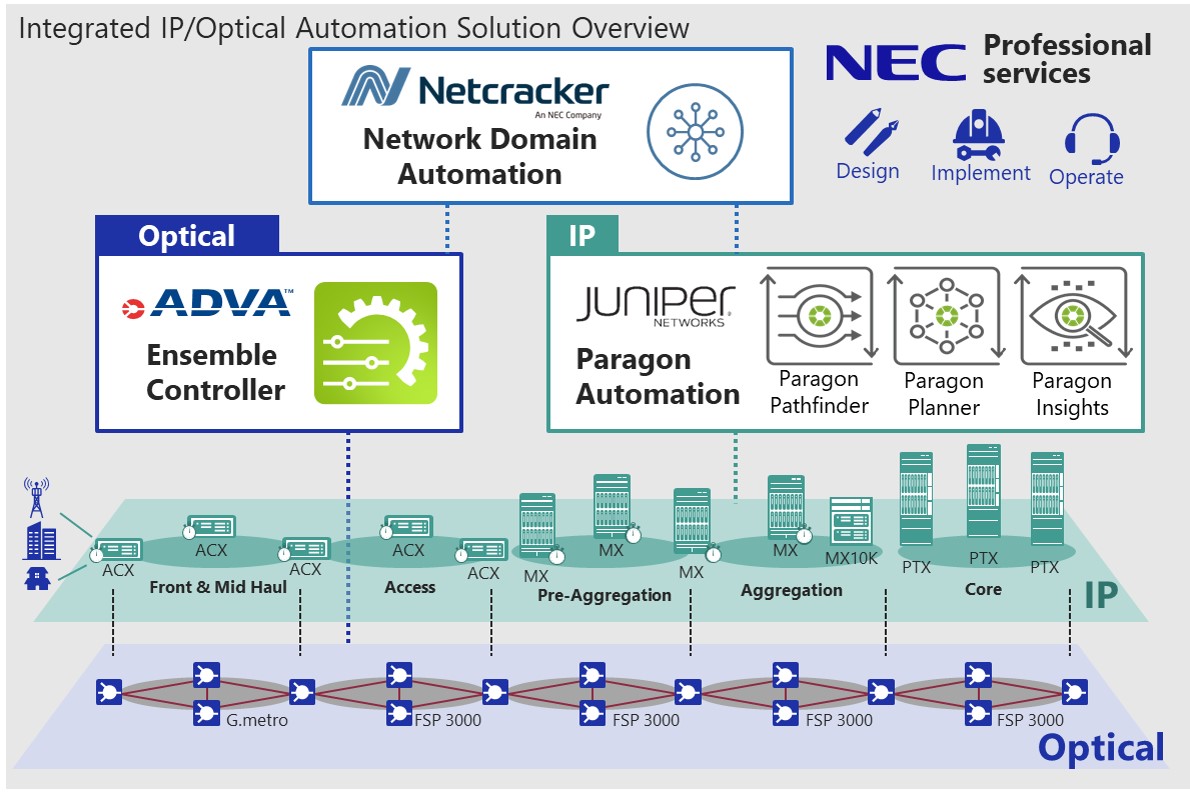 NEC's role in this multi-vendor solution is to integrate Juniper's automated IP networking capabilities, ADVA's optical connectivity and NEC's/Netcracker's network domain orchestration to deliver unified automation across the network's IP and optical layers through a pre-integrated and pre-tested solution – including the support of emerging packet optical convergence technologies. This open, fully integrated and validated solution, supported by NEC professional services, eliminates common limitations caused by vendor lock-in.
Key Benefits for Service Providers and Their Customer
Faster service provisioning from days or weeks to minutes, enabled by integrating optical network interfaces into routers and multi-layer SDN controller integration.
Multi-failure resiliency enabled by multi-layer coordination, optimal use of optical resources and advanced packet layer re-routing via optical network interface integration.
Lower equipment and manpower staffing costs enabled by integration of operational processes, decreased rack space and power consumption, improved mean time to resolution (MTTR), network operations outsourcing options, network planning and optimization, simplified traffic engineering and machine-learning powered analytics.

Juniper's Role: Applying Cloud Principles to the IP Transport Network
NEC an Juniper applies cloud principles to the transport network for faster service provisioning, increased network availability and decreased total cost of ownership. The result is a network with massive capacity, support for new 5G timing and synchronization requirements as well as network slicing and closed-loop automation.
In this multivendor solution Juniper provides its:
IP networking portfolio, which provides faster service provisioning, increased network availability and extended capacity with the support of 400G technology.

Paragon Automation portfolio, which delivers a comprehensive suite of applications that provides network operational visibility and management.
Juniper's automated IP solutions help to significantly lower the OPEX and total cost of ownership (TCO) for service providers.
Experience-First Networking enabled by Automation
This powerful multivendor solution simplifies and facilitates the transition from physical to virtual network resources and environments and helps service providers adopt innovative technologies, including 5G, software-defined networking (SDN) and network functions virtualization (NFV). The solution also brings a single pane of glass view to Service Providers which fully automates service intelligence and network slicing while delivering new benchmarks for service assurance. The result for Service Providers is easier and more cost effective 5G service delivery. The solution transforms service provisioning and operations for service providers, which is a vital and much-needed advancement in the era of experience-first networking.
Read the press release >NEC and Netcracker Launch 5G xHaul Transport Network Automation Solution Working with ADVA and Juniper Networks
Learn more about > NEC 5G xHaul Transport Network Services
Learn more about >

NEC-Junper Global Alliance
Take a closer look at the Juniper solution components:

ACX Series Universal Metro Routers >

MX Series Universal Routing Platforms >

PTX Series Packet Transport Routers >

Juniper Paragon Automation >