xHaul Transport
NEC xHaul Transformation Service to Maximize 5G Profitability
NEC Open Networks


NEC Open Networks
xHaul Transport
NEC xHaul Transformation Service to Maximize 5G Profitability
NEC's Value Added xHaul Network Solution Suite
-A New Holistic Approach to Monetize xHaul Transport in the 5G era
Thinking xHaul evolution: siloed paths vs holistic approach?

5G is drastically changing the mobile network architecture and xHaul Transport being the backbone of the entire network, is no exception. xHaul too nowadays, is facing a wide range of new requirements such as Open RAN, edge computing, multi-domain automation, and security protection. Traditionally, new technologies and features tended to be adapted in a siloed approach that could result in risking the ability to maximize the investment of the xHaul Transport Network.

NEC goes beyond conventional siloed measures, taking a holistic approach, and integrating best-of-breed solutions with distinct specialties based on Open xHaul Ecosystem. This suite of solutions called "Value Added xHaul Network Solution Suite", brings all critical elements such as IP/optical transport, edge data center networking, network security, and automation into a single, unified xHaul architecture, optimizing the entire xHaul network and helping operators build a robust, agile and profitable foundation in the 5G era.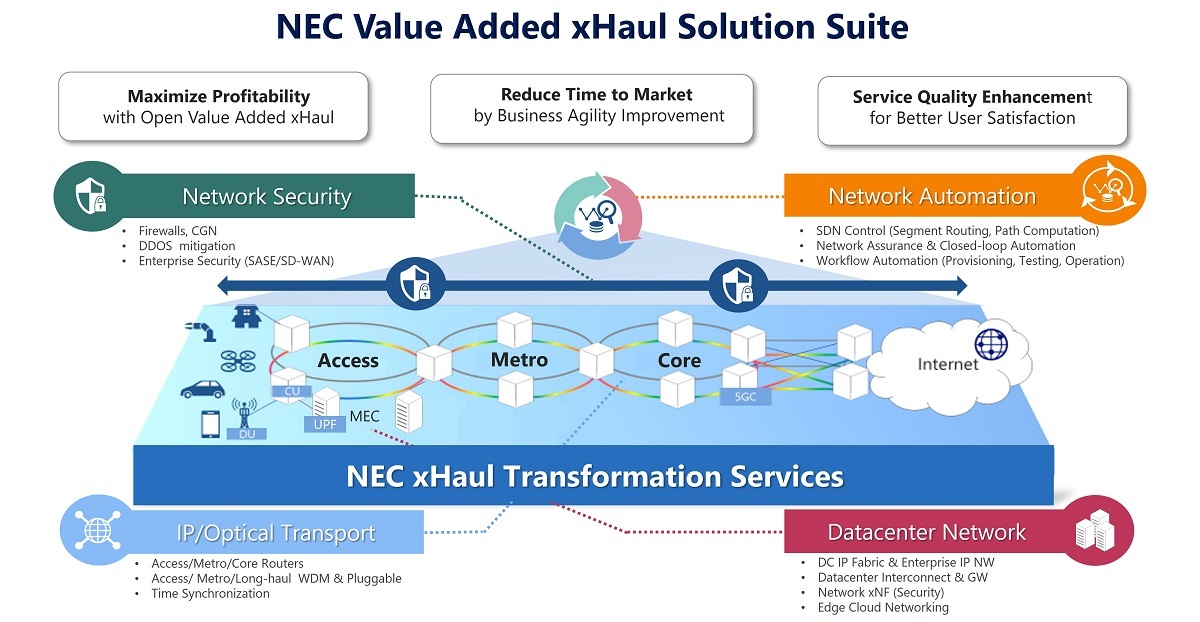 NEC xHaul Transformation Service for Value Added xHaul Network
Simplify your network with NEC 5G xHaul Transformation Services

Deploying 5G technology on your network is one thing. Ensuring that technology performs as promised and can evolve and scale as needed is another.
NEC xHaul Transformation Services cover everything you need to ensure optimum 5G performance and reliability in a multi-vendor, multi-domain environment – from planning and design to operation and optimization – with expert customization and integration at every step.
No two operator networks are exactly the same, and neither are the transport network solutions they require. We draw on the scope and bench strength of our vendor ecosystem to design and deploy complete, custom-fit solutions that include services such as segment routing migration, converged IP/optical design and much more, and ensure the system meets your specific needs.


Open xHaul Ecosystem for best-of-bread solutions
NEC's multi-vendor system integration service is based on NEC's Open xHaul Ecosystem, which is comprised of award-winning strategic alliances with leading vendors around the globe who have designed and deployed transport solutions for the world's largest Tier 1 operators. Leveraging the experience and reach of this global network engineered will simplify your transport network decision making and deliver the best transport network solution.



Automation increases efficiency and functionality
Automation is an essential technology in the 5G era, enabling efficient and reliable operations over increasingly complex transport networks. However, incorporating automation into a multi-vendor network environment requires new capabilities that can stretch your resources.
NEC understands what it takes to holistically redesign your network architecture and its processes. Pairing the network and software engineering capabilities of our own Center of Excellence network engineers with the expertise of our global ecosystem of industry-leading network and software suppliers, NEC automates the entire xHaul transport network operation lifecycle including network provisioning, traffic engineering and closed-loop automation. The result is a custom-built automation solution that delivers better agility, efficiency and simplicity.


NEC makes your choice easy
Customer Oriented
with Large Scale Footprint

The experience of a global innovator that has been providing transport network expertise over 150 countries. There's value in that experience that we pass along to our customers every day.


Multi-vendor, Multi-domain Integration with Ecosystem
Multi-x system integration services to offer Value Added xHaul Network Solution Suite based on an open ecosystem of global leading partners.

Global Competence with Transport Network
Centers of Excellences (CoEs)
NEC's 5G Transport Network Centers of Excellence, centralizing global expertise to offer advanced services including migration and maintenance as well as validation and trainings in universal lab.

September 13, 2023

-NEW-
Reshape the 5G Transport Network with NEC-Cisco Routed Optical Networking
February 27, 2023
Insight on Green Network Security in 5G
-NEC & Fortinet evaluation report for Security Gateway andCarrier-Grade NAT
August 2, 2022
NEC and Juniper Networks Partner to Bring Sustainable Business Growth to the Metro Transport Network
July 15, 2022
Maximizing the value of 5G transport networks with precise timing
September 30, 2021
Packet Optical Automation Solution
Webinar -October 17, 2023

-NEW-




The Metro to Cloud Metro Evolution

Webinar -August 24, 2023


Routed Optical Networking
Webinar -August 10, 2023


How Cisco and NEC join forces to help customers transform their Infrastructure
Webinar -April 13, 2023


NEC- Juniper Networks - Analysys Mason joint webinar on Open Networks & 5G Monetization
Webinar -Decemberr 1, 2022

Join Light Reading's webinar "New Best Practices for Metro Networks in the 5G Era"

NEC and Juniper driving Open 5G

NEC-Juniper Global Alliance as Partner of the Year by Juniper in the category of Global Alliance Partner
NEC Technical Journal - September 2023
Special Issue on Open Network Technologies
-Network Technologies and Advanced Solutions at the Heart of an Open and Green Society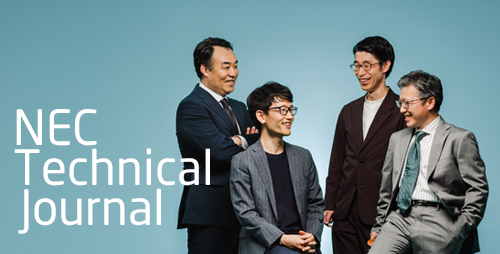 Contact us today to learn more about our Products and Solutions
Contact us today to learn more about our Products and Solutions