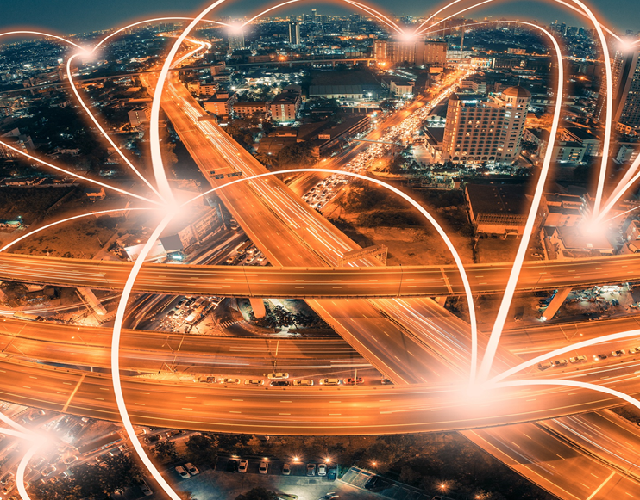 NEC Open Networks : 5G xHaul Transport
Enjoy the Harmony of Industry Leaders with NEC Services
Hear the voices of our 5G xHaul Ecosystem partners to learn how we can build the future together
Open 5G xHaul Ecosystem for tailored approaches
Every CSP needs to take their own 5G xHaul journey
As 5G is blooming, CSPs are facing multiple new challenges for transport network, such as capacity increase, agile service launch, meeting new RAN configuration and so on. However, as every CSP has unique network architectures and challenges, it is essential to have the flexible transport network solutions to meet their own challenges.
NEC Open 5G xHaul Ecosystem for tailored approaches

NEC's Open 5G xHaul Ecosystem is to meet exactly what CSP needs. Our ecosystem consist of the strategic alliances with global leading vendors to offer the best solutions for each CSP. Backed by NEC's transport network experience over the decades, all of the global alliances has led numerous successes around the world, including Tier-1 CSPs.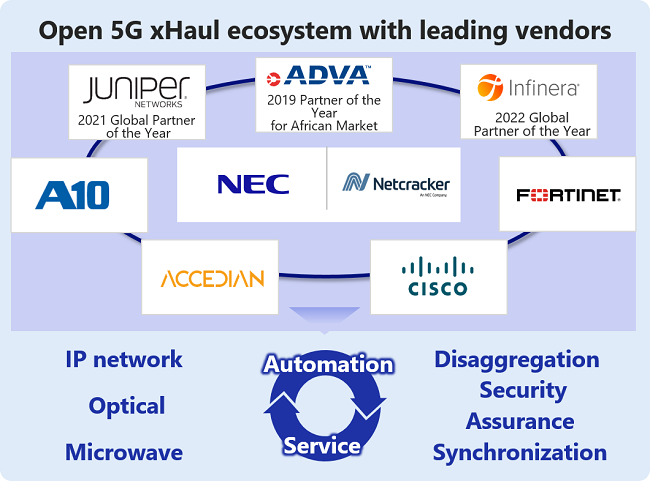 NEC 5G xHaul Transformation Services for network simplification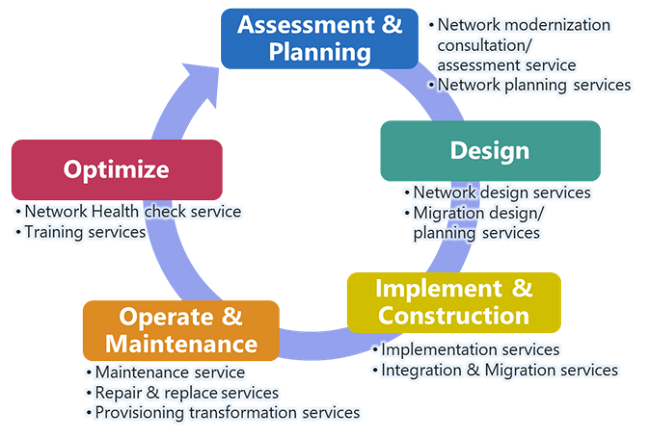 Our service focus is "Customer-Oriented"
NEC 5G xHaul Transformation Services are multi-vendor, multi-domain services for all the phases of projects. Covering from design to operation with complete portfolio, NEC always offers custom-fit better services. Some of the key services are such as Segment Routing Migration Services, Converged IP/Optical Design Services and so on.


Global 5G Transport Network Center of Excellence (CoEs)
The 5G xHaul Transformation Services are provided by NEC's skilled and certified engineers who have rich experiences of CSP's networking. Furthermore, gathering up the global expertise for transport networking, NEC has launched Global Center of Excellence for EMEA and LATAM to provide better services endorsed by global and regional competences.
Automation takes our services to the next level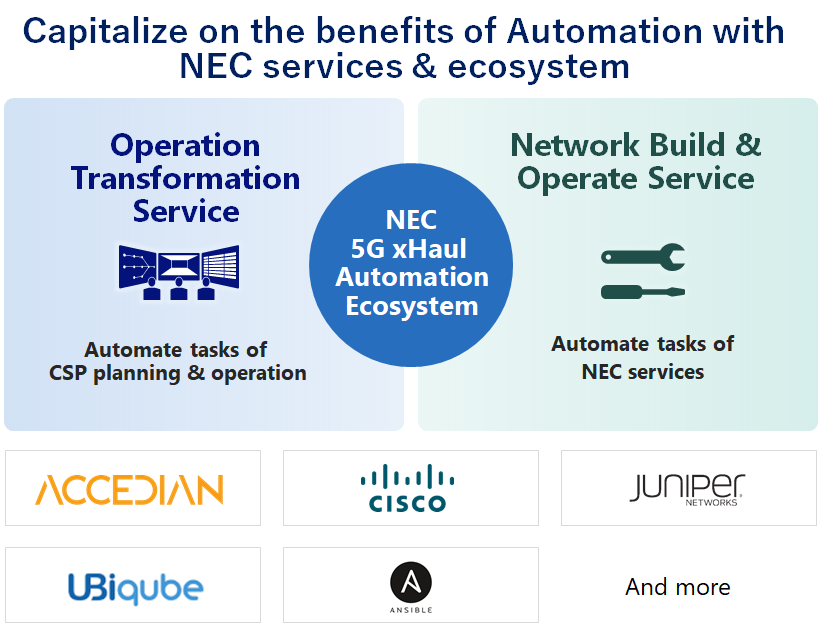 xHaul Automation – are you ready?
For CSPs aspiring to build momentum in the 5G era, automation is an essential technology to enable efficient and reliable operations over increasingly complex transport networks. However, incorporating automation for a multi-vendor network environment will require new capabilities such as holistically redesigning the network architecture and its processes, which is a big challenge for CSPs.


Augmented Services with xHaul Automation Ecosystem
To address this challenge, NEC augments 5G xHaul Transformation Services with open Automation ecosystem of industry leading network and software suppliers. Combining the network and software engineering capabilities of NEC 5G Transport Network Center of Excellence (CoE) and expertise of these strategic partners, NEC automates the full lifecycle of 5G xHaul operations including network provisioning, traffic engineering and closed-loop automation for better agility, efficiency and simplicity.
Solid Strategic Alliances
with Leading Global Vendors
No. 1 global alliances with abundant joint footprints and engineering capabilities in ollaboration with global leaders
Comprehensive Service Capability
with Global Expertise
One-stop services by 5G Transport Network CoEs with + 150 country footprints
Automation-Driven
Transformation
Combining Network and Software expertise with Automation Ecosystem for multi-vendor network automation