NEC Open Networks : 5G xHaul Transport
Enjoy the Harmony of Industry Leaders with NEC Services
Hear the voices of our 5G xHaul Ecosystem partners to learn how we can build the future together
NEC's Open 5G xHaul Ecosystem
Uniquely designed for your unique needs
Find the approach that fits perfectly
As 5G continues to be deployed around the world, CSPs are faced with a range of challenges: more network capacity, greater agility in launching new services, new RAN configurations and more. Each of these factors impacts the transport network, as well. For CSPs to ensure they're ready to take on 5G in a way that's suitable for its specific network architectures, it's essential to have flexible transport network solutions that can be customized to fit without compromise.
NEC Open 5G xHaul Ecosystem is the answer
NEC's Open 5G xHaul Ecosystem is powered by strategic alliances with leading vendors from around the globe, simplifies transport network decisions for any CSP. Backed by decades of transport network experience, NEC's lineup of global alliances has a track record of successfully and simply deploying transport solutions for even the largest Tier 1 operators.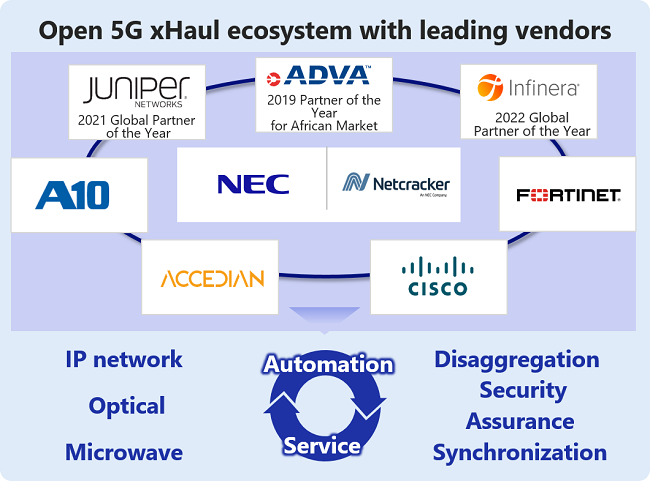 Simplify Your Network with NEC 5G xHaul Transformation Services
Customer-first service philosophy
NEC 5G xHaul Transformation Services cover everything an operator requires to ensure high performance and reliability in a multi-vendor, multi-domain environment. NEC solutions include everything from planning and design to operation and optimization – with expert customization and integration at every step. Our complete, custom-fit approach ensures the system is ideally suited to each specific need and includes services such as Segment Routing, Migration, Converged IP/Optical Design and much more.

Global 5G Transport Network Center of Excellence (CoEs)
NEC's xHaul Services are delivered by skilled and certified engineers with years of hands-on telecom networking experience. By systemizing our expertise, we ensure consistent, high performing networks anywhere, with sensitivity to regional or local needs.
Increase efficiency and functionality with Automation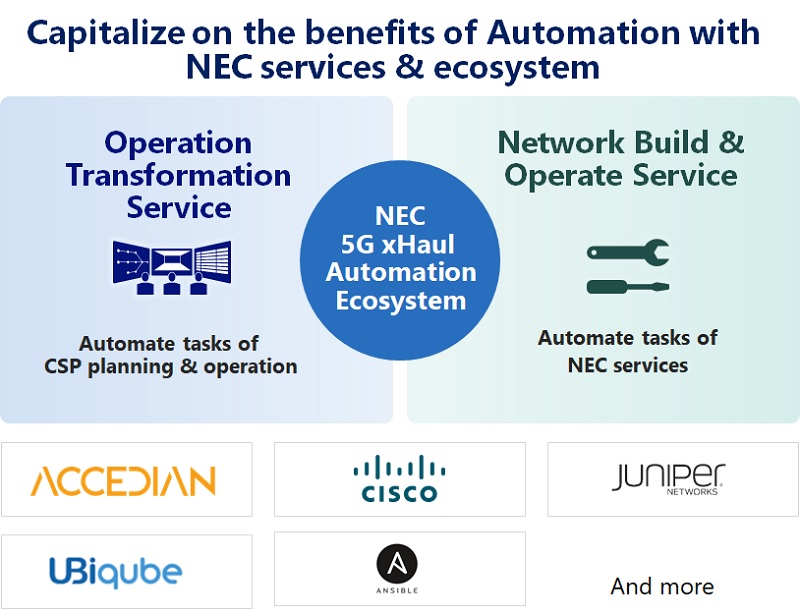 xHaul Automation – are you ready?
For CSPs hoping to build momentum in the 5G era, automation is an essential technology to enable efficient and reliable operations over increasingly complex transport networks. However, incorporating automation into a multi-vendor network environment requires new capabilities that can stretch the resources of CSPs. NEC understands what it takes to holistically redesign your network architecture and its processes to set you up for success.


Trust Our Services and Ecosystem of Partners
NEC augments its 5G xHaul Transformation Services with an ecosystem of industry-leading network and software suppliers with proven expertise in automating complex network tasks. Pairing the network and software engineering capabilities of NEC's CoE with the expertise of these strategic partners, NEC automates the entire 5G xHaul operation lifecycle including network provisioning, traffic engineering and closed-loop automation for better agility, efficiency and simplicity.
NEC Makes Your Choice Easy
Solid Strategic Alliances with Leading Global Vendors


Global alliances with leading suppliers driving collaborations that have delivered robust joint footprints and unrivaled engineering capabilities.
Comprehensive Service Capability with Global Expertise

End-to-end design, implementation and maintenance solutions provided by NEC's 5G Transport Network CoEs with experience in 150+ countries.
Automation-Driven Transformation


Combining Network and Software expertise with Automation Ecosystem for multi-vendor network automation.